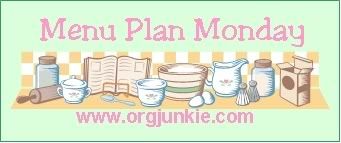 Yet another cooking meme, this time from
I'm an Organizing Junkie
. I'm a little obsessive about making lists, so this will be fun. It takes me a couple of hours to make my meal list, then my grocery list and then cut my coupons. But it definitely saves aggravation (wondering what to cook), and money as well.
This week:
Monday: We had meatloaf, mashed sweet potatoes and steamed green beans
Tuesday: Shrimp Lo-Mein and eggrolls
Wednesday: I'll make French toast for myself and the kids; my husband works from home but goes into work one day a week and stays late. I usually make breakfast for dinner on those nights since it's just three of us.
Thursday: Flank steak wraps
Friday: Chicken and black bean burritos
Saturday: Mom isn't cooking!