I got this recipe back in 1995 from one of those cookbooks you pick up at the grocery store check-out (Pillsbury's Meals in Minutes), and it's called Garden Chicken Saute. For any Weight Watchers reading, it's 7 points for 1-1/4 cups.
Start with this: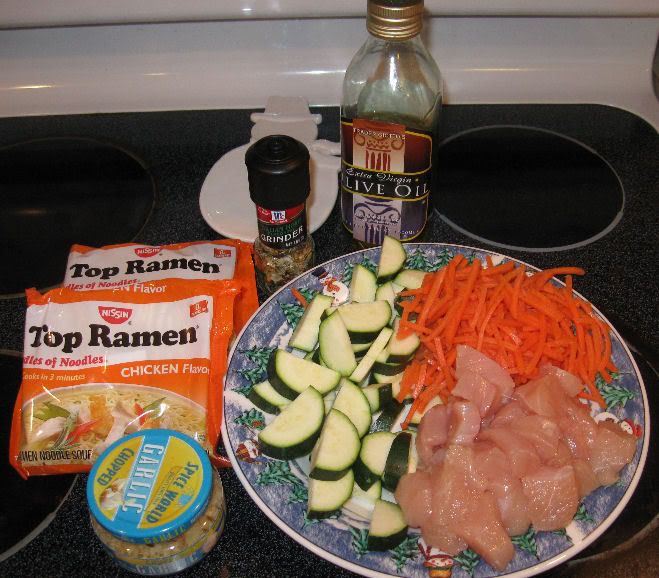 2 teaspoons olive oil
1 whole chicken breast, cut into 1-inch cubes
2 garlic cloves, minced
2 cups water
2 (3-oz) packages chicken-flavor ramen noodle soup mix
2 teaspoons dried Italian seasoning
1 cup baby carrots, cut lengthwise
2 cups sliced zucchini
My changes: For the first time I used McCormick's new Italian Herb Seasoning Grinder, which really made it yummy, and I thought gave it much better flavor than the regular dried seasoning.
I used about half a bag of shredded carrots because I didn't feel like cutting up the carrots.
I always use jarred chopped garlic.
Heat oil in large skillet over medium-high heat and add chicken and garlic; cook and stir 4 to 5 minutes or until browned: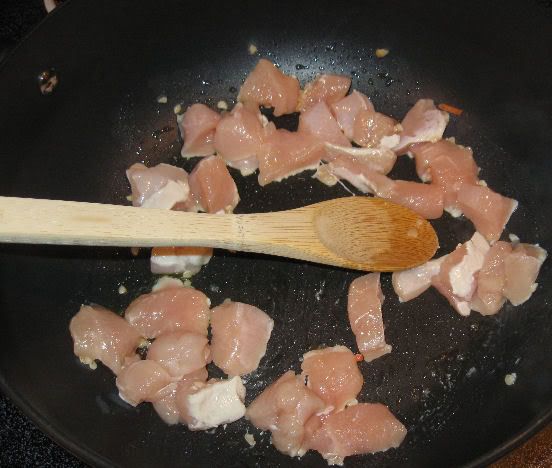 Stir in 2 cups water, seasoning packets from soup mixes, Italian seasoning and carrots. Bring to a boil. Reduce heat; cover and cook 6-7 minutes or until carrots are crisp-tender.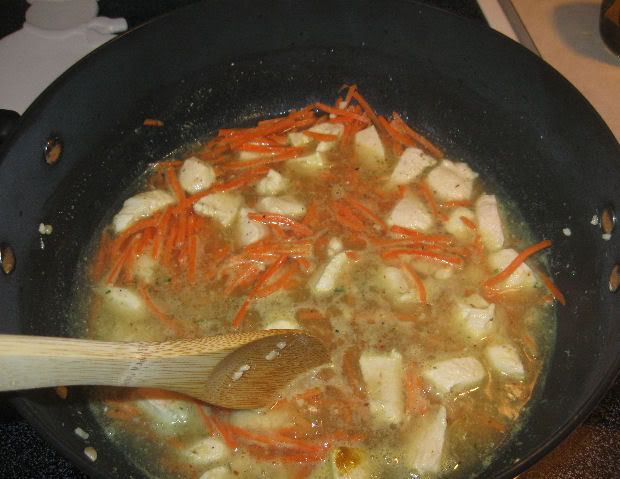 Gently break each block of noodles in half; add noodles and zucchini to skillet. Bring to a boil and boil uncovered, 5 to 6 minutes or until zucchini is tender and noodles are cooked. Stir occasionally to make sure noodles absorb liquid, separating them as they soften.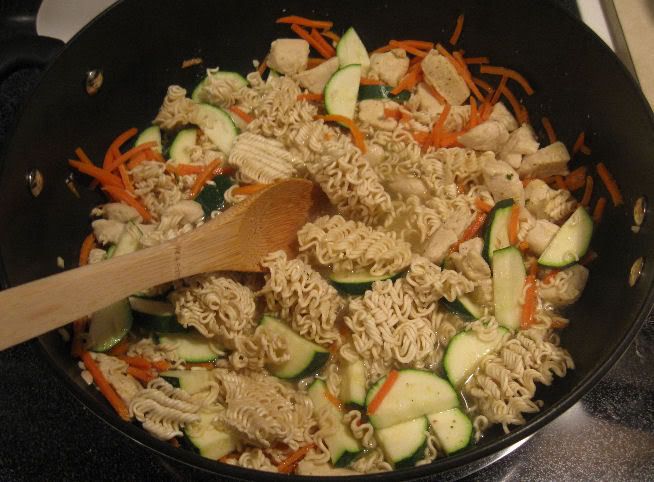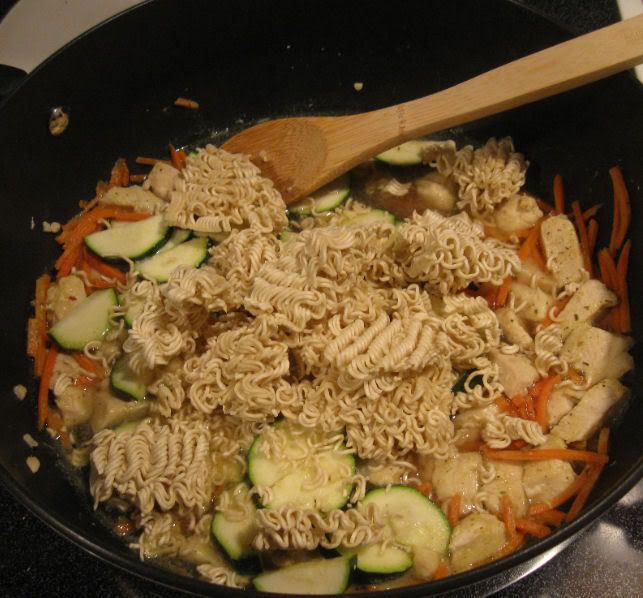 Ready to serve!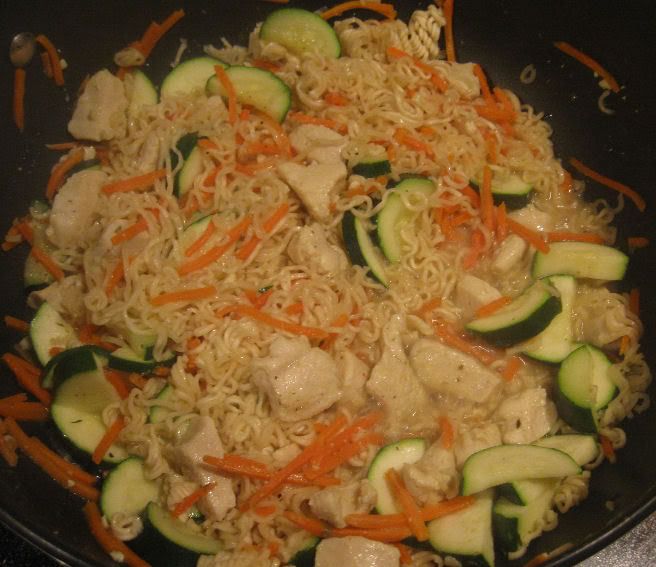 This has been a busy week so far. Becca had her Jump Rope for Heart, her tumbling class, I had to go to the middle and high schools to find about registration for the girls (sob!), tomorrow is Becca's 5th grade Valentine party and Lauren's middle school Valentine dance. Plus Lauren and I are doing our Read-a-Thon on Saturday and that night Chris and I have a Valentine party to go to at my friend Kelli's. Then Sunday is Becca's birthday. WHEW.
I have pictures to post and will hopefully get caught up in the next few days. In the meantime, Chris has a few pictures of Becca's activities this week on his blog.
Last week I made one of Chris's favorite meals, but was so tired from my new anti-anxiety meds that I didn't get a chance to post it. I'm still a little more tired than usual, but it seems that most of the side effects have worn off. I'm actually feeling pretty good, and my doctor said I'm only going to keep feeling better as the weeks go on.
Current Mood:

accomplished